Poonamallee, St. Thomas Home For The Aged, Chennai
St. Thomas Home for the Aged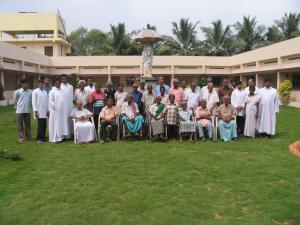 As a great visionary and charismatic formator, Bro. Alfons Maria Höring understood the need for practical training in our apostolate of Hospitality. He planned a home for the aged to accommodate 30 persons. On 18th January 1983 the foundation stone was blessed by His Grace Rayappa Arulappa, the Archbishop of Madras-Mylapore. It was laid by Dr. Christian Hübener, the Consul General of the Federal Republic of Germany. A ten-member group of "Indienhilfe Verein" and Bro. Michael Mockenhaupt, procurator for the missions, were among the many guests present.
The completed home for the aged was blessed by the Archbishop, and was inaugurated by Mr. Manfred Bianco Maselli, president of Indienhilfe Verein in January 1985. The following were present: Rt. Rev. Dr. Abraham Viruthikulangara (Bishop of Khandwa), Bro. Michael Mockenhaupt, a delegation of Indienhilfe Verein, including Herr Frany Weigel, one of the main benefactors, Fathers, Brothers, Sisters, Co-workers, neighbours and friends.
The construction of the present St. Thomas Home for the Aged was started in April 1997. It was blessed and inaugurated in January 1999, together with the Provincial House.
Br. Benedict Nadayil is the present direcor of the St. Thomas Home for the Aged.
Mob.: +919656065840
St. John of God Dispensary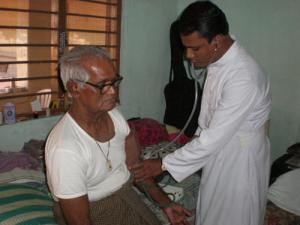 The community had been running a dispensary for the poor of the area from 1983 onwards. A new Dispensary was built in 1995. About 30-40 patients used to come daily for free treatment. The dispensary is not functioning at present.
Sponsorship and Non-formal Evening School
The community is helping many children for their education by providing books, school bags, uniforms, fees, etc. It is also organizing a non-formal evening school for students from the nearby streets.