St. Benedict Menni (1841-1914)
Feast Day of Saint Benedict Menni is on 24 April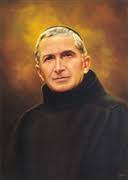 Ercole Menni was born in Milan, Italy, on the 11 March, 1841 in a wealthy Milanese family as the fifth of 15 children. In 1859, at the battle of Magenta, he volunteered to help transport the wounded from Milan railway station to the nearby hospital. This brought him into contact with the Hospitallers. Anguish caused by war, and the example given by the Brothers of St. John of God, awakened in him the vocation to work in hospitals for those who suffer.
Menni entered the Order of St. John of God when he was nineteen. Four years later he made his solemn profession of vows, taking the name of Benedict. He devoted his life to supporting the vulnerable and marginalised, in particular promoting more compassionate treatment for those with mental health problems. His reputation grew and after his ordination in 1866, he was commissioned by Pope Pius IX in 1867 to re-found the Order in the land of its birth, namely Spain where it had been banned since 1836 due to anti-clericism.
Ever impelled by the merciful love of God, and making himself constantly available to the poor and suffering, Benedict succeeded in opening the first children's hospital and refuge in Spain in the city of Barcelona in 1867 and thus restored the Order in Spain.
He was appointed Superior of the Order in Spain in 1872. He moved to Marseille but soon returned to Spain to help victims of the Third Carlist War (1872-76) in the Basque provinces. Eventually Benedict managed to get funds for a building at Ciempozuelos, 20 miles outside Madrid where he founded a psychiatric hospital which would revolutionise the treatment of mentally ill patients in Spain.
Benedict insisted on a holistic approach and also recognised the importance of bringing women into his work. In 1881 he founded the Hospitaller Sisters of the Sacred Heart of Jesus. With the help of the Sisters, Benedict founded 17 psychiatric hospitals in Spain. Today his Sisters are working in 24 countries. Suffering, lack of understanding and slander were to accompany him until his death at Dinan, on the 24 April, 1914. Father Benedict Menni was beatified on the 23 June, 1985 and was canonized on the 21 November 1999. Saint John of God Menni Services in Dublin is named in his honour.