Martyrs of Hospitality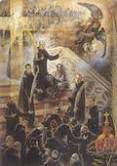 While Brother Richard Pampuri attained holiness through the ordinary activities of life, a good number of Brothers of St. John of God had to face the ordeals of martyrdom before attaining the glory of Heaven.In the golden annals of the Order are listed Martyrs in Belgium, Poland, Columbia, Chile, Brazil, Philippines and specially in Spain where during the civil War of 1936, 98 Brothers were killed due to hatred towards their Christian faith.
The process of beatification was successfully terminated for a group of 71 Brothers whose martyrdom took place in Spain. Pope John Paul II beatified them in Vatican on 25th October 1992. All suffered the same fate, but the others' diocesan process is going on. Among those seventy-one Blessed there are seven young natives of Colombia who after their profession had been sent to Spain to complete their formation. In the history of the Church, they are the first from their country to be venerated in the Church. They were shot in Barcelona on August 9, 1936.
Martyrs of Faith
The 71 champions of charity, animated by a deep motivation, remained loyal to Jesus Christ in their belief in the Christian life and their religious vocation, even to the acceptance of persecution and death, in order to bear witness to their faith and consecration. Their fidelity clashed with Marxist communism and the religious oppression of the revolution of the Spanish Militia, which, in an atmosphere of violent persecution, broke out against the Church and its institutions.
In this background is found the fundamental reason for their martyrdom. In this background of persecution, the religious, torn from their life of community and of charity, and often after long and cruel periods of imprisonment, died as martyrs of faith and of Jesus Christ. The greeting "Hasta el Cielo" (See you in Heaven) and the cry "Viva Cristo Rey" (Long live Christ the King) were the last echoes of their faith and brotherhood. With the beatification of these 71 Hospitaller martyrs, the Catholic martyrology has been enriched in a significant manner. This is not so much by reason of their number, but more for the precise and special way they died as martyrs of Hospitality. To the glorious crown common to all martyrs, is added in the case of our 71 Hospitaller martyrs, a shining ornament, the fact that they gave their lives to witness to their vocation and consecration to Hospitality in the service of the sick and needy as faithful imitators of Christ, the Good Samaritan, who passed through this world doing good and healing the sick. Therefore, the 71 beatified Hospitaller Brothers, from now on, will be hailed by the Church as witnesses of mercy and charity even to martyrdom.