Community of St. Richard Pampuri and St. John's Health Centre Deshgaon
Introduction
Until 1985, the missionary activities of the Brothers in India were limited to South India. The Brothers had a great vision and desire to spread the charism of St. John of God to the remotest villages and rural areas of North India.
Invitation from the Bishop of Khandwa
As a result the Pre-Chapter meeting of the Brothers in 1983 at Kattappana decided to accept the suggestion of Provincial Makarius Klaholz and Brother Michael Mockenhaupt and accede to the request of the Bishop of Khandwa, His Excellency Abraham Viruthikulangara, to take over an existing dispensary at Deshgaon, in the Diocese of Khandwa, which was then being run by an SVD Brother. Brother Savio Padinjarekutt arrived at Deshgaon on 29th July 1985 and took over the dispensary in August 1985. By that time the Bishop, with the help of Br. Michael Mockenhaupt, had purchased 5 acres of land at Deshgaon.
Overcoming Initial Difficulties
One of the initial difficulties that Brother Savio had to face was that of learning the local language, Hindi. There are approximately 14 villages around Deshgaon. Once a month Brother Savio, with the parish priest, used to visit the Adivasi villages of Gajwada and Kherda. The Adivasis are hard workers and lead a very simple life. In the beginning they were very reluctant to talk with the visitors. But slowly the villagers developed a friendly attitude towards them and they began to meet a welcoming atmosphere when they came on their visits.
Visit of Mother Theresa and the New Dispensary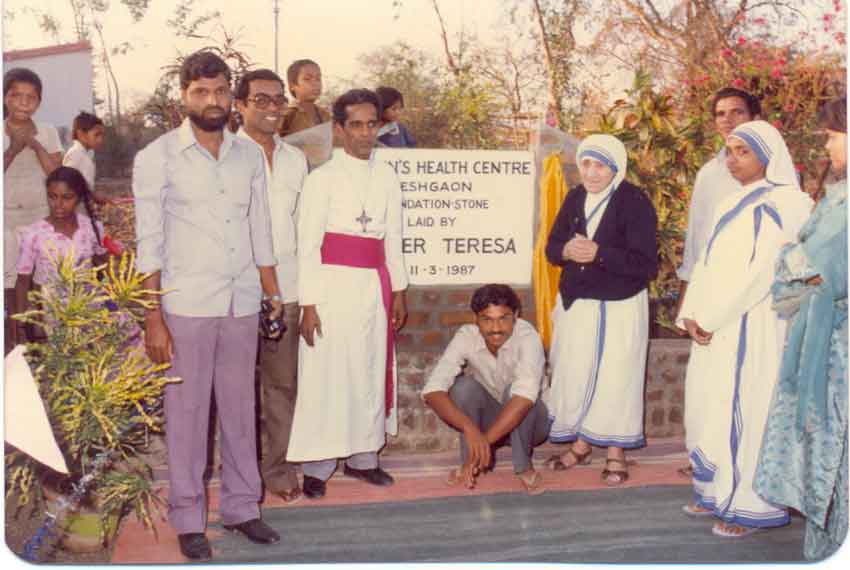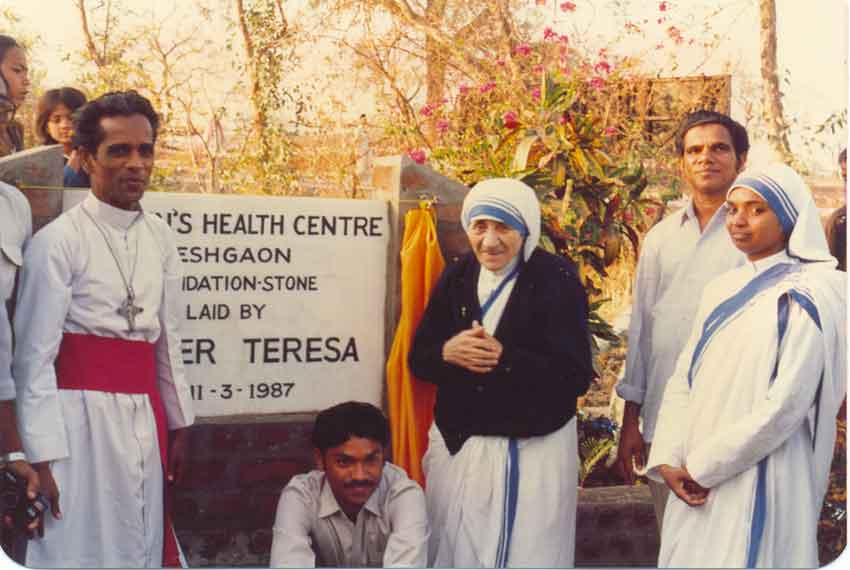 Saint Mother Theresa laid the foundation stone for a new house and dispensary on 11th March, 1987. Until the construction of the new house and dispensary was completed in 1988, Brother Savio stayed in the Parish House and worked in the existing Dispensary. Fr. John Thayyil, the Parish Priest, was a great help to Brother Savio. The Sisters of St. Joseph Sevika, who live near the Parish House, also helped him, especially in the initial stages of running the dispensary and in looking after the patients.
The New House and the Dispensary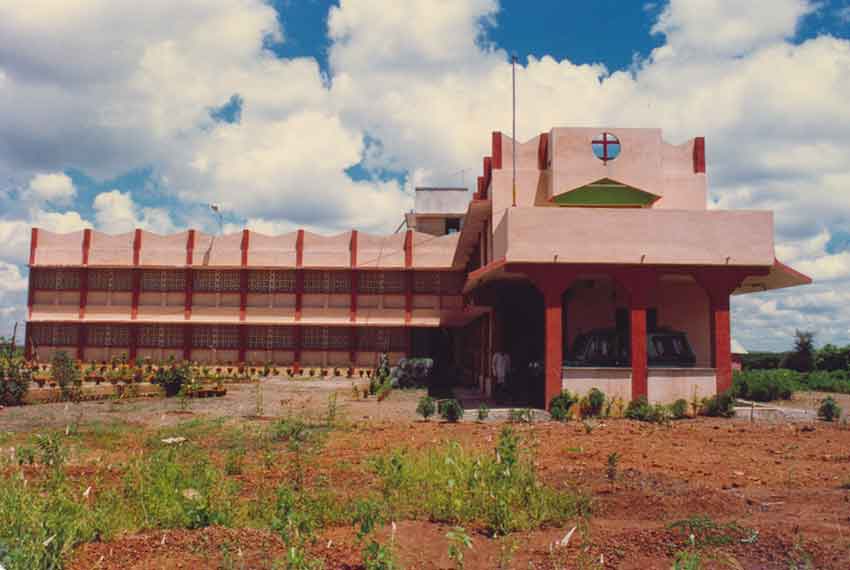 With the help of Misereor (Germany) and Indian Help Organization (Germany) the new house and dispensary was constructed on our land at Deshgaon. The house and the dispensary were completed and inaugurated on the 16th of January 1988. Meanwhile this house was canonically erected in the Generalate of Prior General Pierluigi Marchesi by a decree dated the 2nd of May 1988.
Problems of the Area
Malnutrition and illiteracy were the most urgent problems that needed immediate attention. With the help of Fr. John Thayyil we were able to establish the Mother and Child Health Program of CRS (Catholic Relief Services - USA).
This program provided pregnant mothers and children less than 5 years with nutritious food, etc.
In the Adivasi villages there were many sick people and the children were not immunized. So, with the help of our doctors we managed to get the necessary medicine for immunization of the villagers.
Some patients, with various ailments, even come from far away villages and some of them have to travel by bullock-carts overnight due to the lack of other means of transportations. Most of the patients are farmers belonging to a poor socio-economic class who are unable to meet the expenses of medical treatment. Over the past years we observed that the majority of the patients who attended the Health Centre were suffering from tuberculosis and most of them were not able to complete the treatment owing to their poor financial status.
Illiteracy is another problem in the villages. Since most of them are illiterate they are very easily exploited. So our first aim was to educate the children. With the help of our benefactors we were able to get some sponsorship that enabled some children to live in diocesan-run hostels and get educagted.
Service of Doctors
In the beginning we used to take our patients to doctors in Khandwa, which is 25 km away. In this way we had a good contact with Dr. Dileep Jain, an orthopedician, with whose help we came into contact with Dr. Ashish Bajpai who agreed to come to Deshgaon every Friday. In a short period the number of patients became so large that it was difficult for one doctor to manage. So, Dr. Bajpai arranged for us to have the services of Dr. Shirish Dingre and Dr. Rajiv Jain.
Service of More Brothers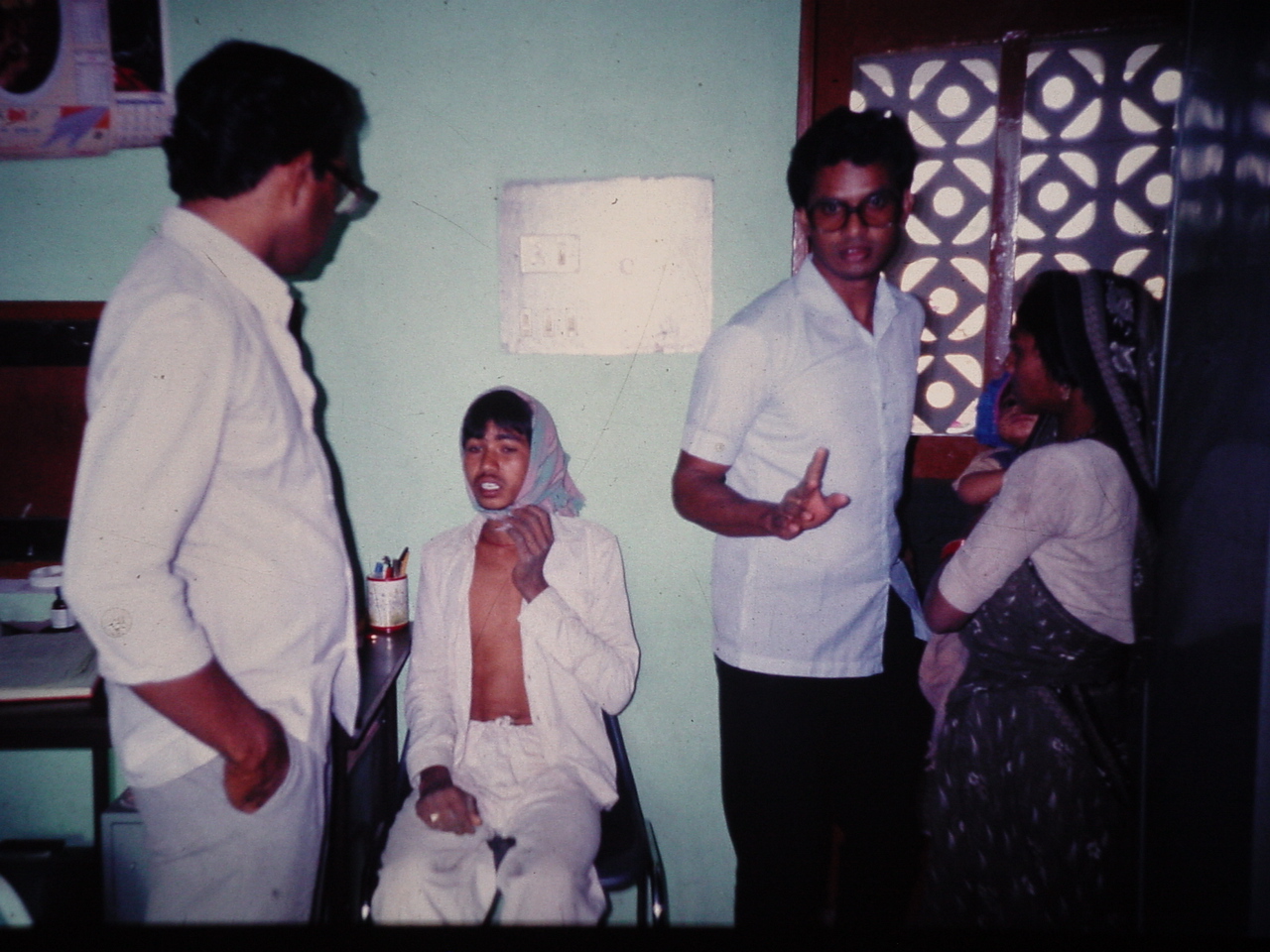 In the year 1989 Brother Stephen Chirayath came for one year after which he returned to Kattappana. Then Brother Aloysius came for a time and was followed by Brother Augustine.
In 1993 Brother Augustine returned to Kattappana to prepare for going to Germany for studies. Then for a short period Brother George Kizhakkekara came after which Brother Aloysius joined the community. In the Provincial Chapter of 1995 Brother Albert Thekumkaduthadathil became the Prior of the Deshgaon Community.
Primary Education Centre in the Village of Kherda
From the beginning we worked amongst the people of Kherda village. In 1996 we started a Primary Education Centre in that village for children who were not attending school. In this we had the help of Rev. P. Ernst Schmedding, Parish Priest of Arzheim/ Eiterfeld, Germany. In 1996 Dr. Leo Peschel of Austria came to our health centre and gave his services for three months. During his stay he donated a microscope, a riflatone and a computer to the centre.
Another Primary Education Centre at Gejawada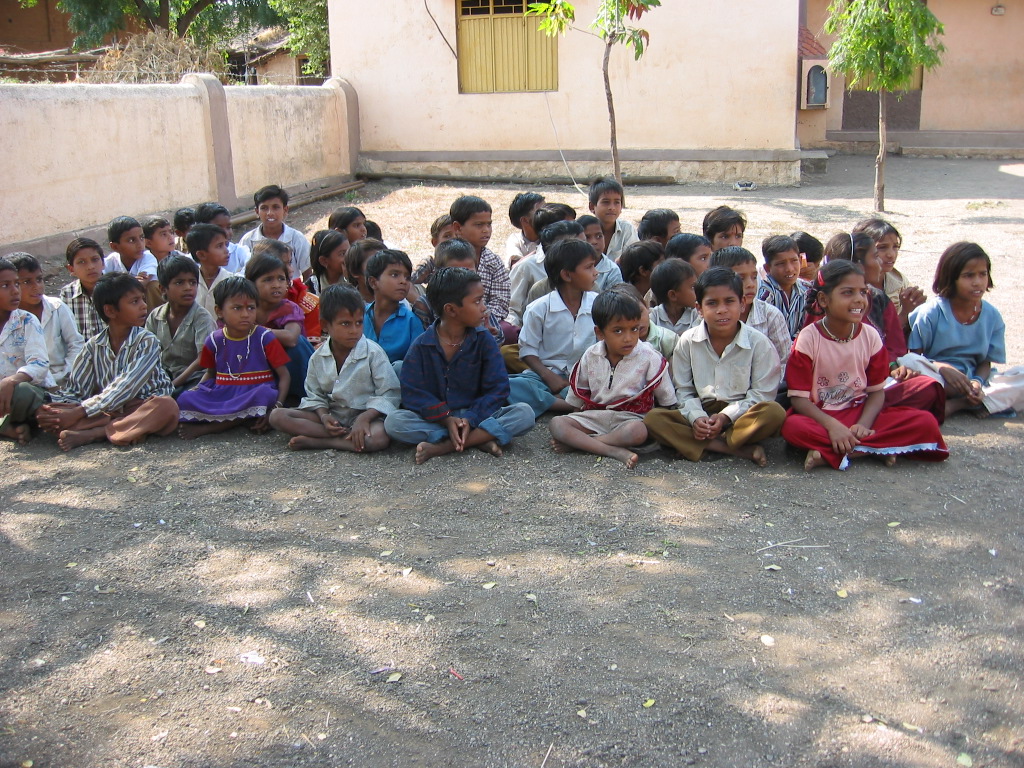 In the year 1997 Rev. P. Norbert Schmidt Weller visited our centre with some of his parishioners and they helped us to start another primary education centre at Gejawada.
A Social Welfare Centre at Kherda
With the help of Fr. Ernst Schmedding of Germany we started a social welfare centre at Kherda, a village about 10 km away from Deshgaon. This was inaugurated by Bishop Abraham Viruthikulangara on 9th of March 1996. Here we are running an Immunization Program, a Mother & Child Health Program and a primary school.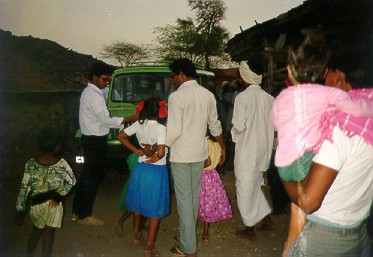 On the 20th of January 1997 a group of benefactors from Oberursel in Germany visited us under the guidance of Brother Alfons M. Höring and Fr. Norbert Schmidt Weller, Parish Priest of Oberursel. With the help of the Oberursel Parish we were able to start at Gejawada another social welfare centre, i.e., a primary school for non-school going children. Fr. Norbert Schmidt Weller laid its foundation stone on the 11th of January 1997 and the work was completed by June. By July 1997 we had started the school with 41 boys and 29 girls.
Service Coverage of More than 20 Different Villages
In Deshgaon we are looking after patients who come from more than 20 different villages. An average of 20-30 patients visit our dispensary every day. More than 40% of the patients have Tuberculosis.
There are also a good number of patients with leprosy and malaria. With the help of a surgeon, Dr. Athul Vyas, we were able to help a number of patients with surgical operations. He carried out minor operations at our centre and transferred those who required major interventions to Indore where he was able to arrange for them to be treated at the minimum possible expense.
Help of the Sisters
At present two Sisters of a Secular Institute are staying in the villages. Engaged in catechetical work, they stay for one month in Kherda and the next month in Gejawada. The Sisters of St. Joseph Sevika make house visits and assist us in the health work, coming with us to the villages. The Parish Priest also comes with us to the villages to assist us.
Present Situation
Our dispensary at Deshgaon there is a day-care facility of four beds. Patients receive check-ups and explanations of their disease or health condition.
In addition to the three visiting doctors, there used to be a fourth one, Dr. Athul Vyas, surgeon, who visited our dispensary from Indore (105 km away) every third Friday. Dr. Ashish Bajpai and Dr. Rajiv Jain used to come every Friday and Dr. Shirish Dingre every Monday. But since May 2013 - as the St. Richard Pampuri Hospital was inaugurated at Khandwa - our facilities like X-ray, Laboratory and Ultra Sound were shifted to the new Hospital.
At present only one Doctor visits our Dispensary on Fridays from 1.30 to 3.30.
Besides these activities, with the help of our benefactors from Germany and Austria we are also helping about 120 children with their education.
The present Superior of the House is Bro. Savio Painjarekutte. Mob. 8457918768.