EMBLEM OF THE ORDER
Please download the article Pomegranate, Symbol of the Hospitaller Order of St. John of God.pdf (60 KB) for a deeper understanding of pomegranate & the Hospitaller Order.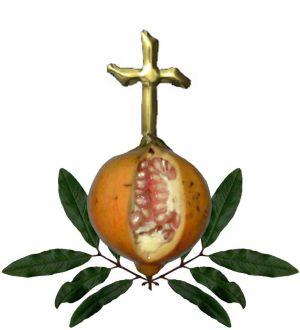 St. John of God, who dedicated his life for the suffering humanity through his healing ministry of Hospitality, is the inspiration, guide and model of the Hospitaller Order of St. John of God that is spread throughout the world. Its logo is the pomegranate with a cross that is ripe and broken.
Pomegranate is the symbol of the city of Granada in Spain. It is here where St. John of God lived and died for the suffering humanity.
There is a legend that when John of God was wandering with a mind full of passion for doing good for the needy and a heart full of mercy and compassion, the Child Jesus appeared to him and giving a pomegranate told him, "Granada will be your cross".
In English Pomegranate is also called 'Granada Apple'. Pomegranate is having healing powers, too.
Today, this logo signifies John of God's mercy, hospitality and passion for doing good to the poor, the needy and the suffering. When we are in touch with this logo, let us be inspired to be a healing presence in our world of suffering.
OFFICIAL EMBLEM OF OF THE PROVINCE